So yeh, I landed at 7.30 this morning after nearly 24hrs of travelling, dodgy plane food and not much sleep.
Sweet Internet, how I've missed you!
Anyway, I'm alive again now and back for good, and I'm very relieved to see this place still and up running very smoothly; I really need to listen to that podcast! Although I stink, and am grumpy and exhausted, what I've seen over the last few weeks has been totally unforgettable, and I think I now know the true meaning of 'poor'. It's certainly given me a whole new outlook on life and a drive to make a difference somewhere, appreciating the importance of all I have too.

I've started ranting already, so you can imagine how much you're gonna hear about this in the coming weeks! What matters is that I'm back, and raring to go with a whole new perspective.

See ya around!
Good to see you back pheonix
_________________
UPGRADE IN PORGRESS
YOU WILL BE ASSIMILATED
RESISTANCE IS FUTILE
CYBERMEN REIGN SUPREME
WE WILL UPGRADE THE DOCTOR
"you don't understand the implications, im not a human being, I walk in eternity"                  - THE 4TH DOCTOR

ASSIMILATION39

User




Posts

: 168


Points

: 100


Join date

: 2013-05-03


Location

: Manchester


Job/hobbies

: collecting


Fav' Movie Character

: superman (henry cavill)



Phoenix! Welcome back buddy. As you can see, we kept the forum nice. Minus the fires over there, but dont worry about them :laugh:
_________________
ExplosiveCookie wrote:Im Trying To Kill A Mop With A Pillow!
DalekEmperor101 wrote:I Worry About You :laugh: 
How can you expect to save others, when you can't save yourself?
Welcome back Phoenix ! Hope you had a good Holiday

TheIronLad

User




Posts

: 332


Points

: 375


Join date

: 2013-04-28


Fav' Movie Character

: Peter Jason Quill (Star-Lord)



Glad to see you back Phoe!!!
_________________
Feel Free to PM me for your custom action figure needs..
Nice to see you back on my birthday!

_________________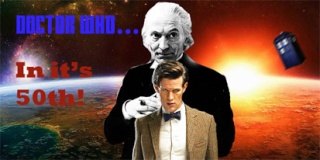 SuperMarioDWFan

User




Posts

: 58


Points

: 60


Join date

: 2013-02-02



Happy Birthday SuperMarioDWFan 


TheIronLad

User




Posts

: 332


Points

: 375


Join date

: 2013-04-28


Fav' Movie Character

: Peter Jason Quill (Star-Lord)




---
Permissions in this forum:
You
cannot
reply to topics in this forum